New pellet boilers Evolution Line in the Fireplace Zone
The exhibitor of the Fireplace Zone - KOMINTEKA will present new pellet boilers Evolution Line during the Installations Fair. The exhibition will be available on April 25-27 in hall 5 - stand No. 128.
PR20 and PR30 - new pellet boilers Evolution Line
The new PR (PROFESSIONAL) line of pellet boilers is the result of an in-depth research and innovation process, which, thanks to technical knowledge and experience of over 50 years in this industry, has allowed for the creation of an innovative, versatile and efficient product, capable of heating the entire home in an ecological and cost-effective manner. without sacrificing comfort and ease of use. Effective systems for automatic cleaning of the shell and tube heat exchanger and burner, combined with an integrated ash removal and thickening system, in fact significantly reduce routine maintenance without sacrificing efficiency. The performance has also been optimized thanks to an efficient PWM circulation pump, a reliable ceramic glow plug and a series of probes for detecting performance (temperature sensor in the combustion chamber, pellet level sensor and heat and pressure safety sensors).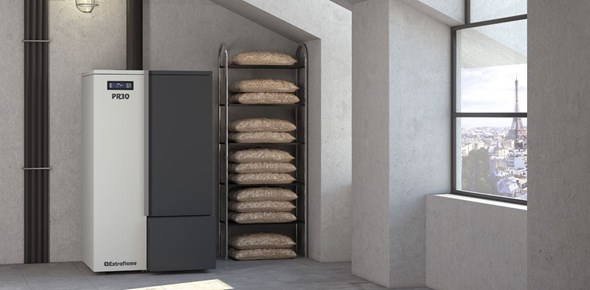 The presence of wheels for moving and convenient hydraulic couplings as standard, located directly in the upper part, greatly facilitate the assembly operations, not forgetting the possibility of choosing the smoke outlet between the upper and the left side. Complementing the already extensive equipment is the new Black Mask display with built-in Wi-Fi for remote management with the new special application "Total Control 2.0" and the standard system expansion board for full integration of the boiler into the house system and management of maximum comfort in each room.
These boilers, available in two different power versions (20 and 30 kW), have been designed to achieve the maximum co-financing program in Poland "Clean Air" and meet the strictest European certificates confirmed by the EKO PROJEKT certificate.
Find out more at: www.kominteka.pl and www.lanordica-extraflame.com.
source: KOMINTEKA