Defro Home products at the INSTALACJE Fair
Defro Home Vital gas fireplaces are a combination of the best features of fireplaces with possibilities not available in traditional devices. An innovative burner that, together with dedicated ceramic logs, creates a deceptively similar fire as in a wood-burning fireplace and together with dedicated ceramic logs of trees guarantee the warmth of a home fire. Defro Home products will be on display in the Fireplace Zone (stand 128) at the INSTALACJE Fair on April 25-27 in Poznań!
Defro Home Vital
Vital is not only a source of heat in the home. Thanks to it, you will be able to feel the power of a home hearth, and your living room will become cozy and modern. The device from Defro Home is the perfect way to enjoy the beautiful game of fire - just press the remote control and be delighted with the unique atmosphere in the blink of an eye! Vital proves that the timeless design, usability and ease of use can go hand in hand with ecological solutions.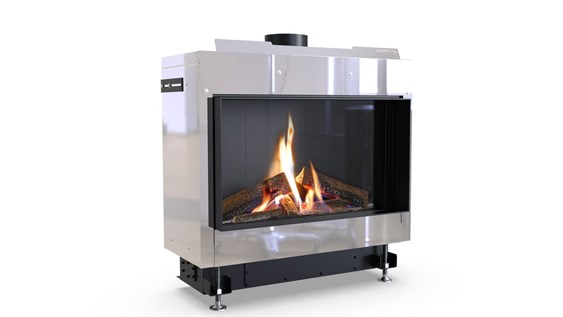 Gas fireplace insert Defro Home Vital 37 S
Choose your favorite version of fire
You create the Defro Home Vital fireplace yourself, the multitude of formats and models will make it fit into any room. Its interior is in the foreground, it is a key element, which is not only paid attention to when the fire is burning. Optional elements of the furnace decoration affect its appearance, and the black glass ceramics can enhance the expressiveness of the flame. In the Vital fireplace everyone will find their own individual version of the fireplace.
Defro Home Intra XSM C G
A fireplace with a three-sided vision of fire does not have to be large. Defro Home has introduced the smallest of the C-type fireplace models lifted upwards to the series of DEFRO HOME INTRA inserts.
 Fireplace insert Defro Home Intra XSM C G
The fireplace allows you to enjoy the impeccable view of the fire in an ecological version. Its advantage is also the possibility of personalizing the handle, and even opting out of it and using the option of a removable, "cold" guillotine handle. The device not only looks great, but is a perfect complement to the home, even for those with recuperation.
The series comes in three versions, depending on the size of the hearth: XSM, SM, ME.
Find out more at: www.defrohome.com.
source: Defro Home